11 Inspiring Bedroom Ideas - Classic Blue and White Color Schemes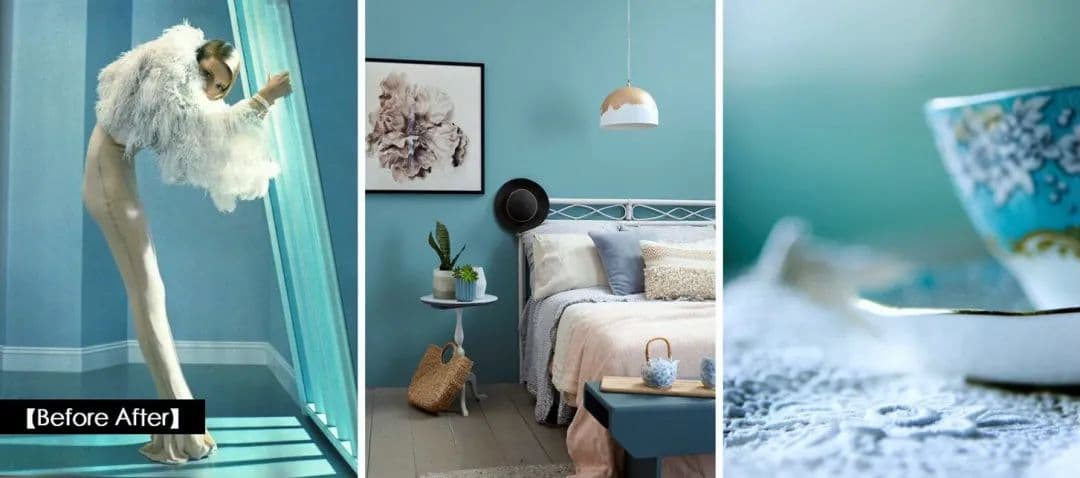 When it comes to color ideas for the bedroom, blue and white are a match made in heaven. The beauty of this combination is that the proportions of blue and white are always in just the right state, paired seamlessly with each other, and they always look balanced regardless of the brightness, saturation, or amount used. White as a canvas for blue can be a great partner for all kinds of blues - precious blue, sky blue, aqua, indigo, sky blue, cobalt blue, or peacock. Whichever blue you choose, from lighter, lighter tones to deep, rich, darker blues, it is the most calming combination.
No matter what style you have in mind, blue and white bedroom ideas conjure up a crisp, fresh visual effect. This classic combination can be used throughout the home and can transcend specific styles, despite its connotations of chic coastal decor.
We've gathered 11 blue and white bedroom ideas from well-known designers for you to look forward to inspiring you.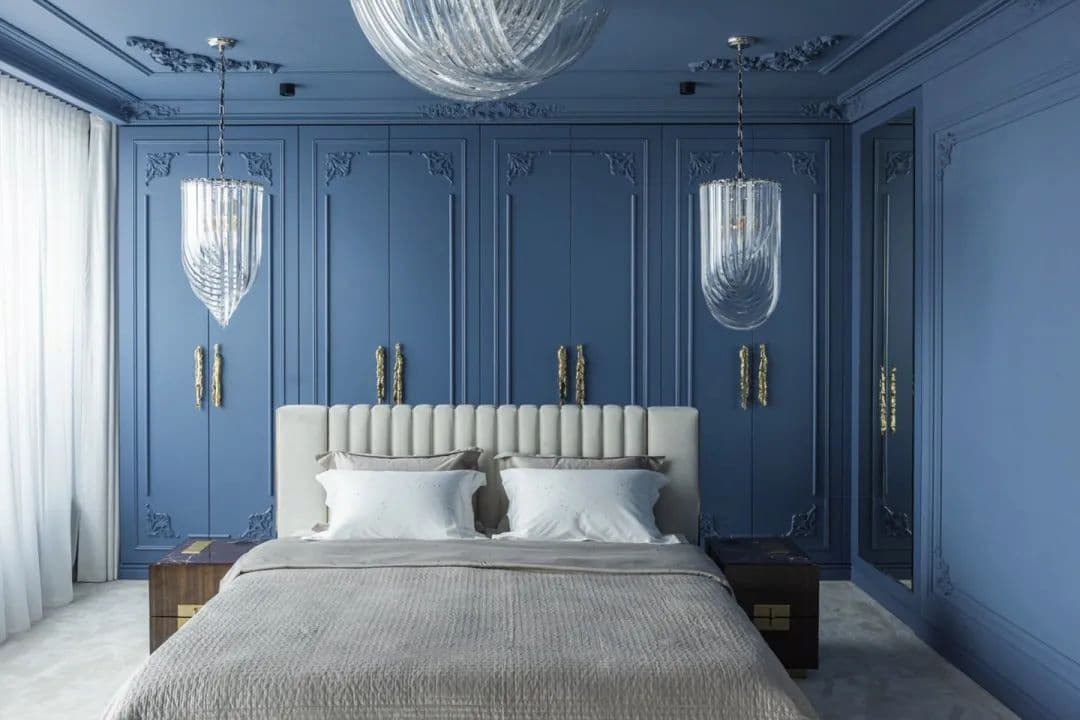 #01 Mixing blue botanical patterns with white linens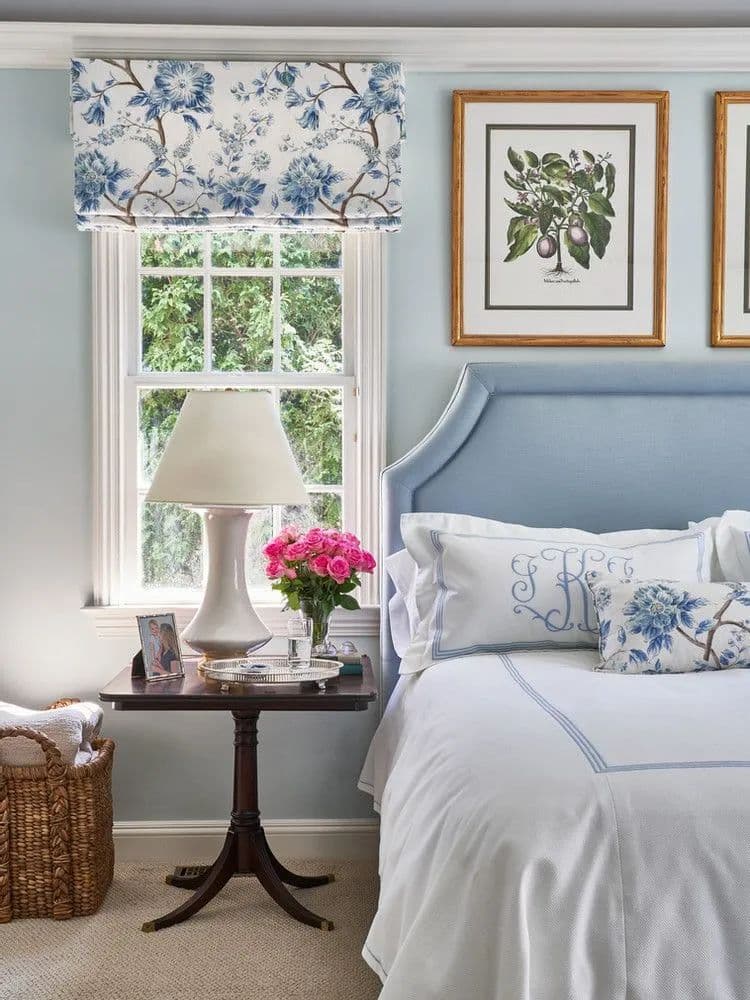 Refresh your bedroom with some classic solid blue and white patterned pillows and curtains. If you already have a blue headboard, bring crisp white sheets and a touch of blue to that whimsical bedroom. Interestingly, the wood details work well with this combination as it adds warmth to the cool scheme.
Amal Kapen, the founder of Amal Kapen Interiors, LLC, says, "This room was built for a young couple in their first home who wanted a peaceful and calming space to escape the hustle and bustle of their busy work lives."
 "The floral and botanical patterns combined with the soft blue fabric and wall color create the perfect soothing bedroom," adds Amal. "Most of my work includes antique and vintage pieces from our clients' properties or my design store, and this project is no exception. Clients bring in many heirlooms and we mix or refurbish them with new pieces to provide them with a young and fresh space.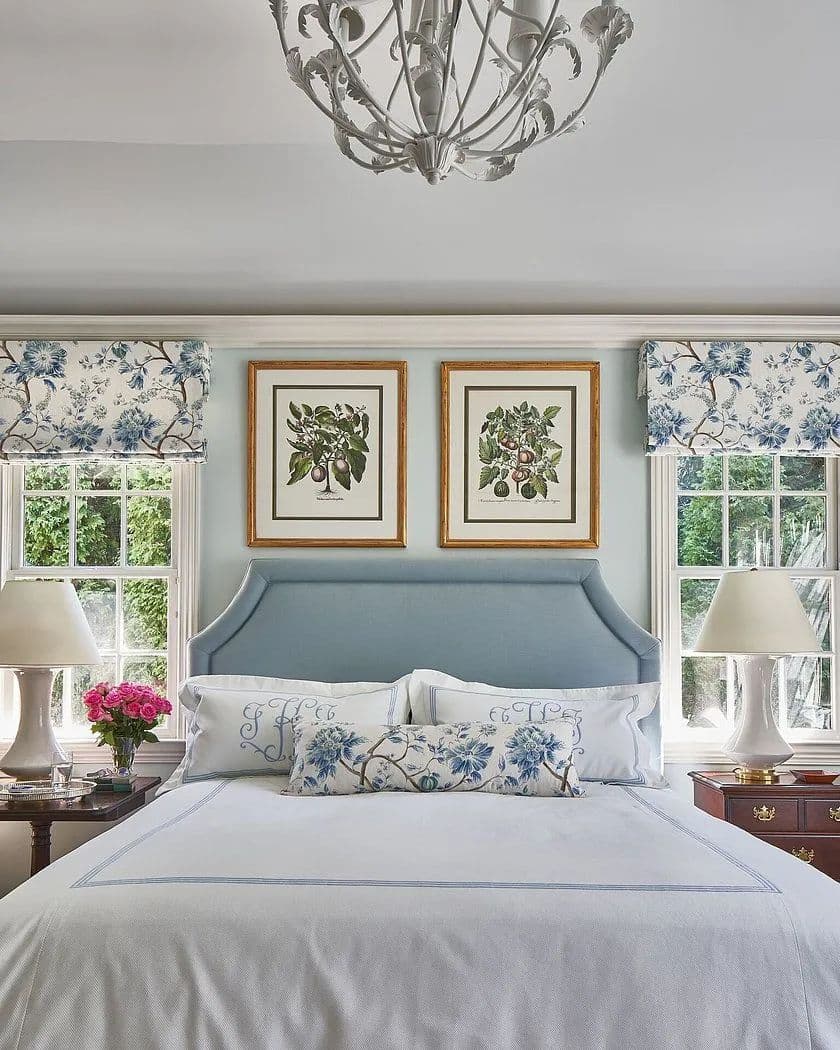 #02 Mixing many blues with white as the background
This is a wonderful palette for a modern bedroom in a city home. The sky blue wall panels soften the impact of the dark blue headboard, a bit of white on the bed, and the wooden furniture brightens the space. The room is colorful but still has a calming ambiance.
"This bedroom was conceived as a guest room in an Ahmedabad apartment, and it takes its cues from the blue elements of Mother Earth," say unTAG co-founders Gauri Satam and Tejesh Patil. "The deep blue ocean serves as the headboard, the bed board features the clear hues of the sky and the vibrant Himalayan blue poppies seen in the floral artwork."
#03 Blue wallpaper with a soft headboard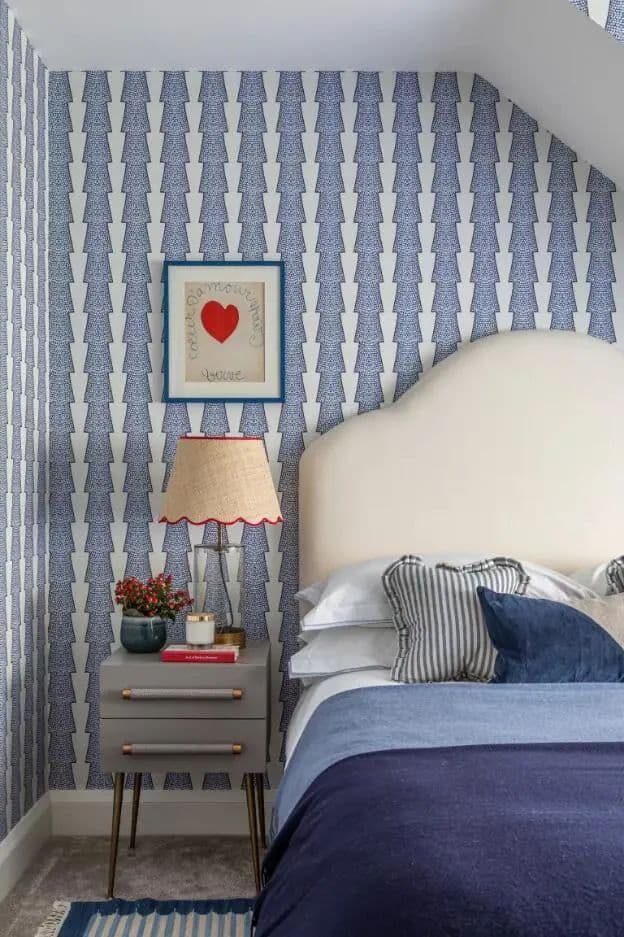 In this space, the blue patterned wallpaper not only sets a wonderful color theme for the room but complements the headboard and bedding. The touch of red through the artwork and lamp creates an artistic contrast to the beautiful bedroom design.
"This bedroom scheme was designed around our favorite Ottoline Devries wallpaper," says Lara Clarke, founder of Lara Clarke Interiors, "and we wanted to juxtapose this striking print with the soft curves of the custom headboard and the soft curves of the lampshade. We complemented the scheme by choosing an accent color of red to balance the blue of the room.
#04 Dark blue walls contrast with warm white ceiling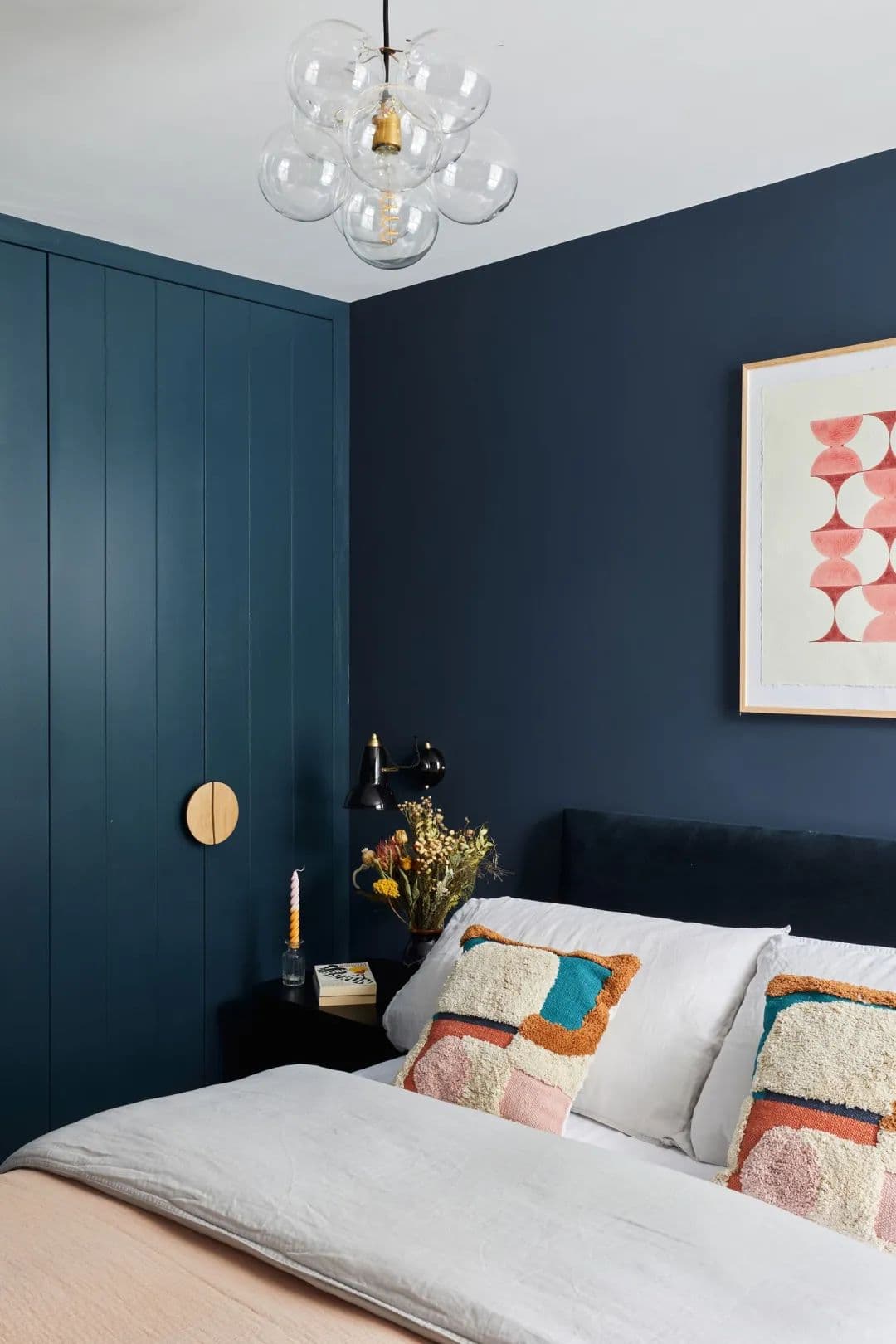 For a more dramatic interior, create a stark contrast between the walls and the ceiling - the most classic way to paint a bedroom. The gold handles on the cabinets and pops of color on the cushions add warmth and contrast to the color palette. It's clean, crisp, and cool, yet warm and cozy.
"We wanted to create a moody, dramatic feel for the bedroom while keeping it fresh and light, so we combined dark blue walls and custom millwork with a contrasting white ceiling and bright textured textiles and artwork," says Grace King, design director of Studio Rey.
#05 White linens decorated with classic blue pottery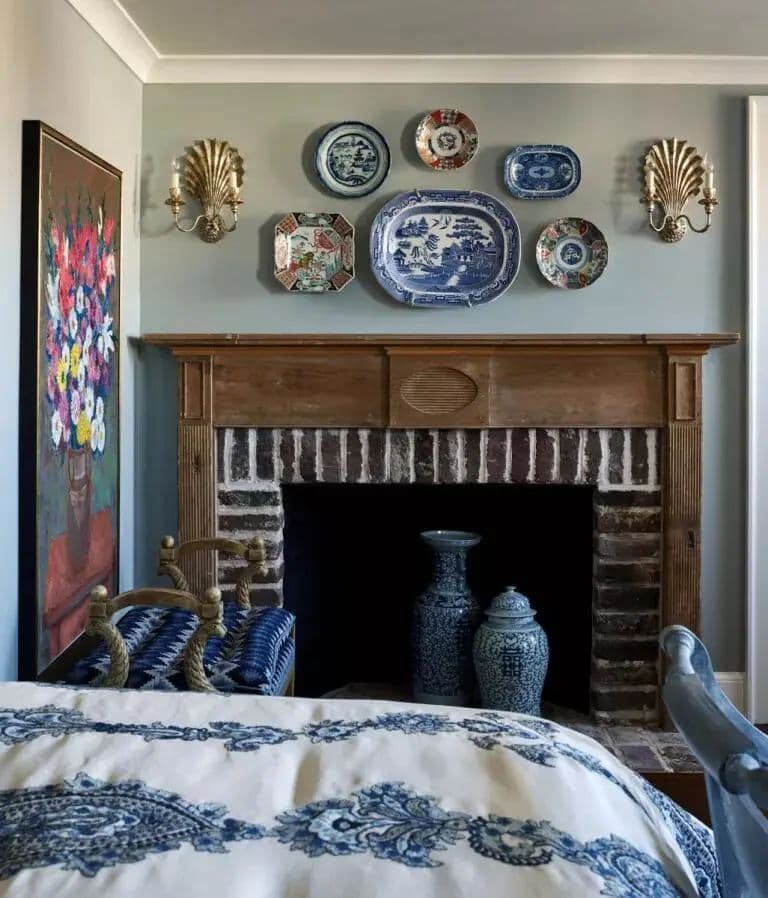 Imagine textiles from the Middle East, hand-painted storage jars from China, and rustic landscapes from France ...... The blue and white combination spans geography and always looks elegant.
In this bedroom, printed chairs, ceramic vases, and wall panels create a Moroccan ambiance - a laid-back, luxurious bedroom that is subtly put together. White and blue pop against the backdrop of light green walls.
"Blue and white have always been a favorite hue for guest bedrooms," says Lindsay Men's, Tommy Smythe, principal of TOM Interior Design Studio, "and its universal appeal and versatility make it perfect for a variety of spaces that guests enjoy and occupy. We love that the scheme can be interpreted in contemporary, traditional, or transitional spaces. Our approach with blue and white always uses patterns and textures to add depth to this austere color combination. Here, in South Carolina, we combined antique, vintage, and rattan furniture to add layers."
#06 Designing a vibrant children's room with white and blue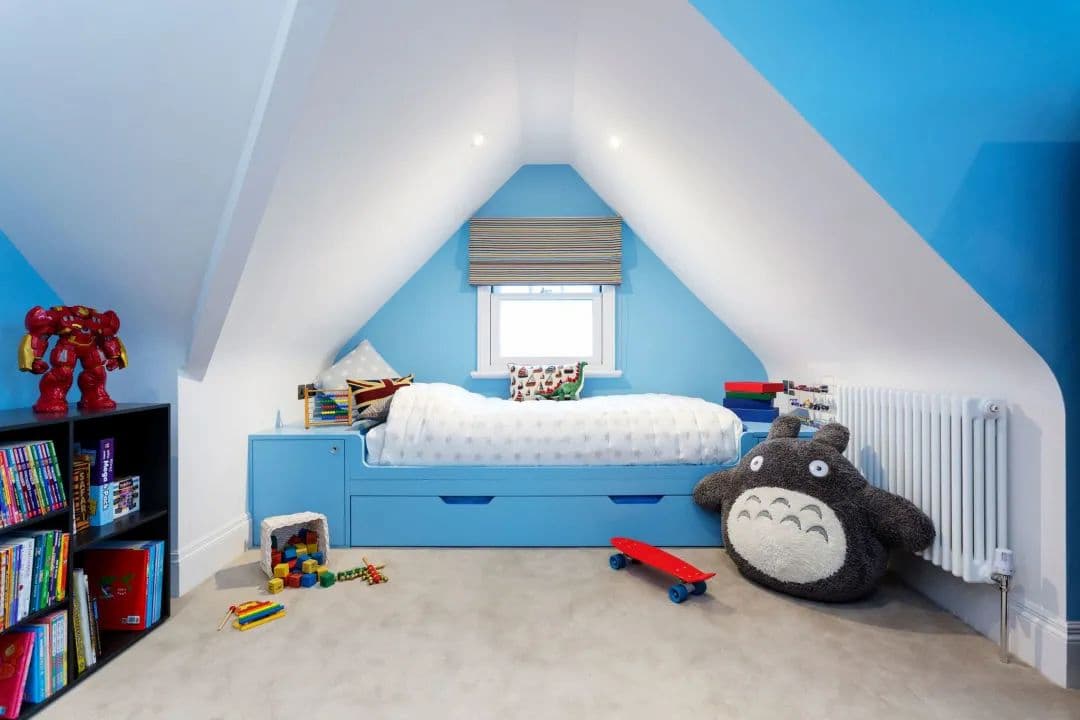 "In the bedroom, warm shades of pink, red, or lilac make you feel safe and cocooned, but cooler shades of aqua or blue will promote better sleep," says Suzy Chiazzari, color consultant and overall designer.
Using blue can be both a fun and practical choice in a children's room that should normally be vibrant and playful. A shade that isn't too bright or too dull will make kids enjoy the room more and won't make them too active at bedtime. When combined with white, the intensity of the blue will be softened.
Caroline Milns, Head of Interior Design at Zulufish, says: "Blue is a versatile color and is often referred to as their favorite because of its connection to nature, especially the vast sea and sky.", "It's the ideal color choice for bedrooms because it creates a sense of peace and tranquility. It is particularly effective in this children's bedroom, where the bed is located in a niche and the angle above the bed could have been a rather awkward space, but with the blue on the walls mimicking the blue sky in the distance, it suddenly changes, expanding the sense of framing the room and creating a sense of light and space."
07 Combining light turquoise, white and green to create a nature-inspired scheme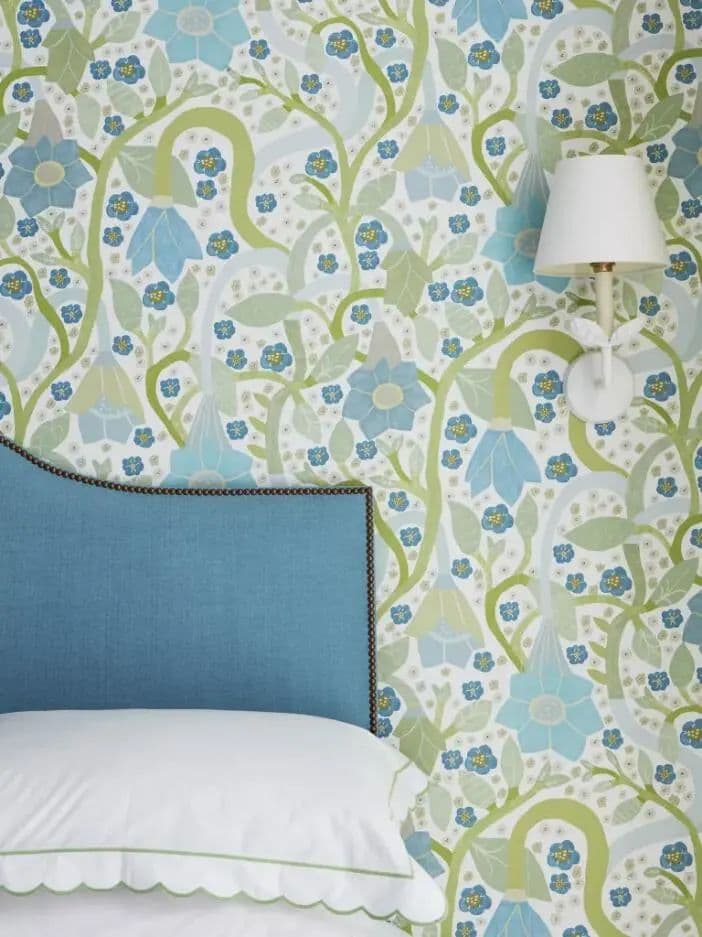 Light turquoise is a unique hue that looks memorable in home décor and can create the most comfortable bedrooms. The Spa uses this watery hue in their designs for a reason - the color is calming. These wonderful colors originate from the sea and create a natural and pleasant atmosphere. Because of the color temperature of this hue, it can be a great complement to other bolder shades, even deeper blues.
The wonderful thing about this hue is that sometimes it feels vintage, and other times it looks like it was picked from somewhere in the Far East. For more of a beach house getaway, use light turquoise layered with green and use white as the base shade to accentuate those cooler tones.
"Blue and white are a classic and timeless combination for the bedroom, and the crispness of white complements the serenity of blue to create a fresh and serene atmosphere," says Kate French, Dado's Creative Director, "It's a versatile palette when adding other pops of color, such as mossy green and soft neutrals from the Monika Forsberg collaboration trailing the 'Monika's Vines' design. These additional hues soften the overall look and reduce strong contrasts, perfect for a dreamy bedroom."
#08 Using CHINTZY flowers to create a hotel-like atmosphere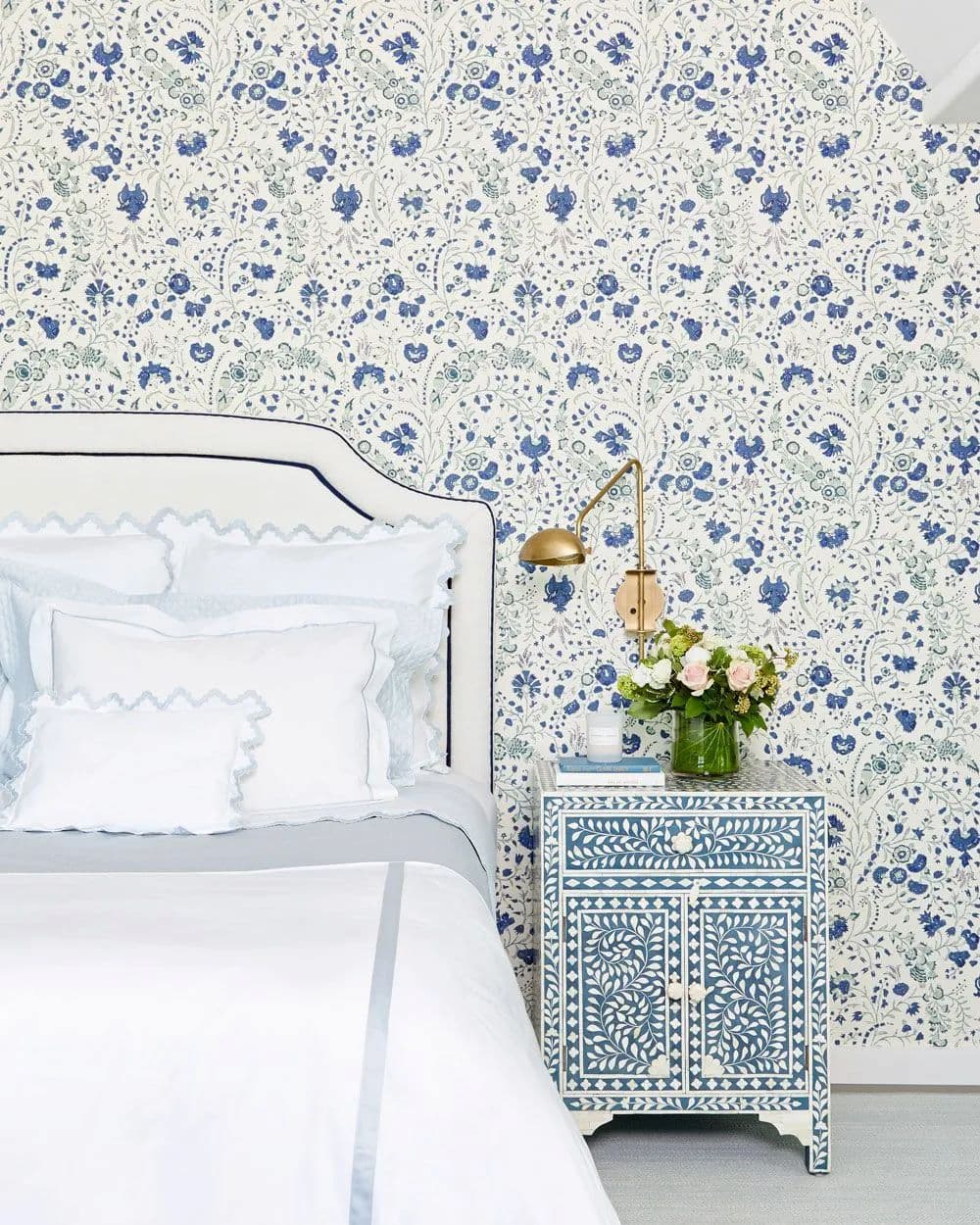 Simple yet elegant, this bedroom comes with a feature wall of wallpaper in a calming blue palette and a serene design. The white bedding gives a modern contrast to the crushed flowers. Adding to the design of this home is a pearl-inlaid side table that adds layers to the floral wallpaper and scalloped bedding that gives a decorative, hotel-like feel.
#09 Choosing blue and white stripes for a modern bedroom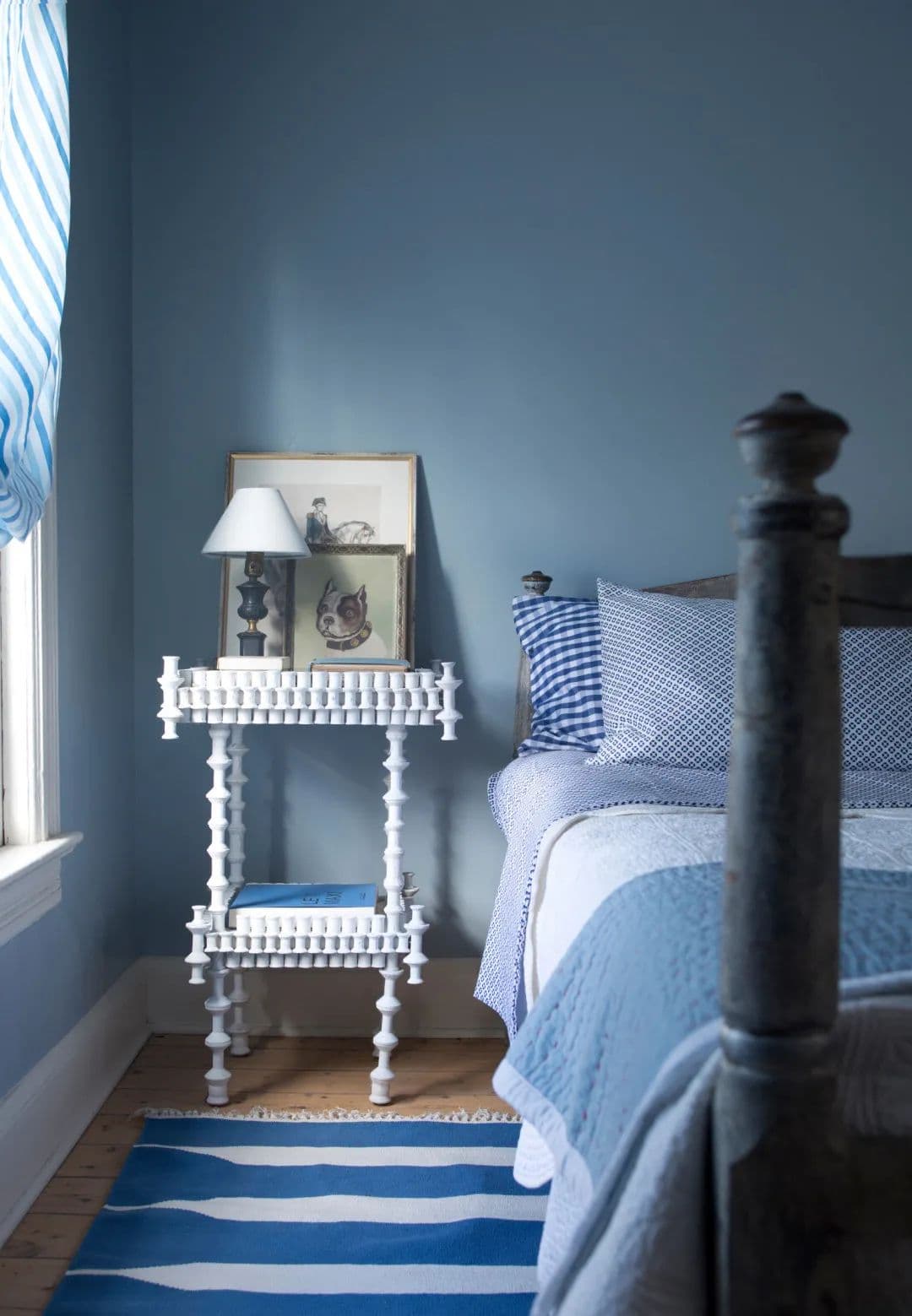 This bedroom is a prime example of color infusion. The beautiful blue hue flows easily from the windows to the carpet, bed, and even the walls. Incidentally, a boldly patterned blue and white rug is a great investment because of the unobtrusive decorative effect it can have. So are pillows with patterns.
On a flat blue wall, patterns bring movement to the design and create a brilliant scheme that has wonderful cohesion. All along, the soft, contemplative blues create an interior that helps you get a better night's sleep.
#10 Create a soft atmosphere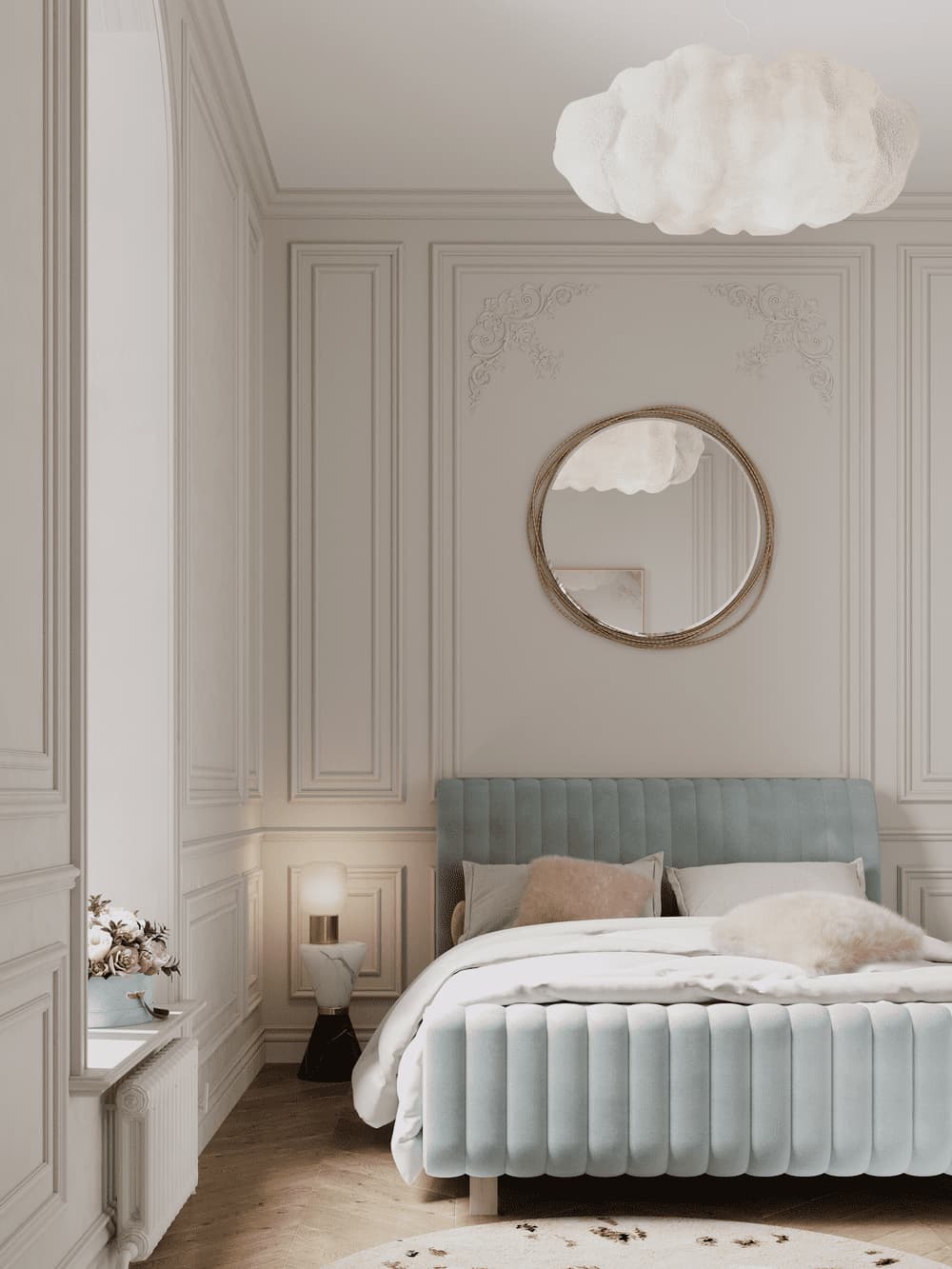 When you have an architecturally rich space with beautiful shapes and great heights, it's best to keep it muted so that color doesn't distract from designing a rich space. For example, in this gorgeous bedroom, the warm white creates a calm, introspective feeling that allows the viewer to take in the room's styling, paneling, and double-height.
Adding color to the lower half of the room was intentional to create a more lively space in an area dominated by residents. A pop of pink on a soft blue bed helped create a pretty vignette. For a change, the shade of white plays a central role in the color scheme, while the blue adds a subtle sense of support.
#11 Ditch the paint and introduce blue through soft furnishings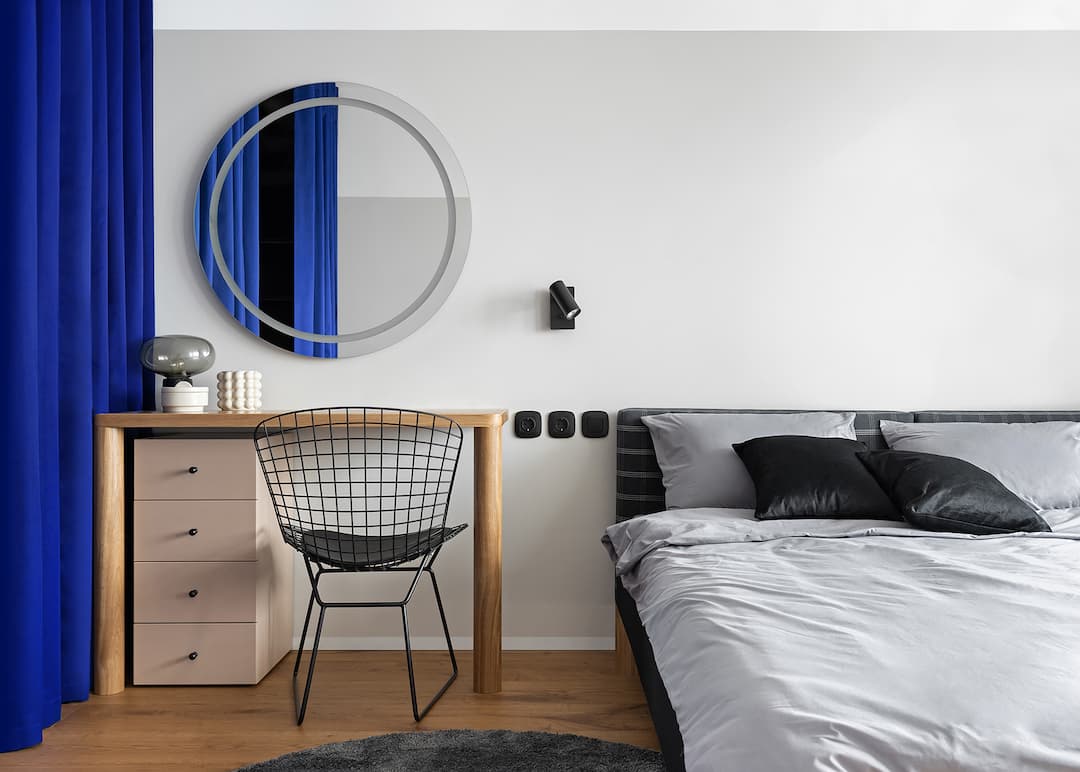 Who says a color scheme has to be about paint. By choosing vibrant soft furnishings that are perfectly juxtaposed with other elements in the room, you can create an effective space. This is especially a good idea for a spare bedroom or guest room where you may not want to invest in an expensive paint job. With soft furnishings and even furniture, you have the flexibility to change things up.
"For the bedroom, we chose the same color palette as the rest of the apartment," said Alexander Ivasiv and Yuliya Tkachenko, founders of Ater Architects, "The light walls and ceiling with the vibrant blue The light-colored walls and ceilings are complemented by vibrant blue motorized curtains that separate the closet space from the bedroom. In addition, to create a warm ambiance, we used parquet on the floors and solid wood furniture."